Events
Organise your seminar in a unique venue
Looking for a quiet, authentic venue for a company seminar? The Domaine de Ceyrac in its beautiful surroundings is open for all types of corporate events. Our outdoor areas are delightful and sufficiently open for team building activities or outdoor strategy meetings. Our interiors are perfectly equipped for conferences, study days or business lunches away from the hustle and bustle of the city.
The aim of your corporate seminar is team bonding? The Domaine de Ceyrac has hiking paths nearby for nordic walking, trail running or cycling. For your relaxation events, our property has top-quality amenities: swimming pool, tennis court, boules, billiards, Hammam and more. Send us your specifications and our team will take care of the rest.
The property is easy to get to, at the foot of the Cévennes, just 35 km from Alès, 49 km from Nîmes and 49 km from Montpellier.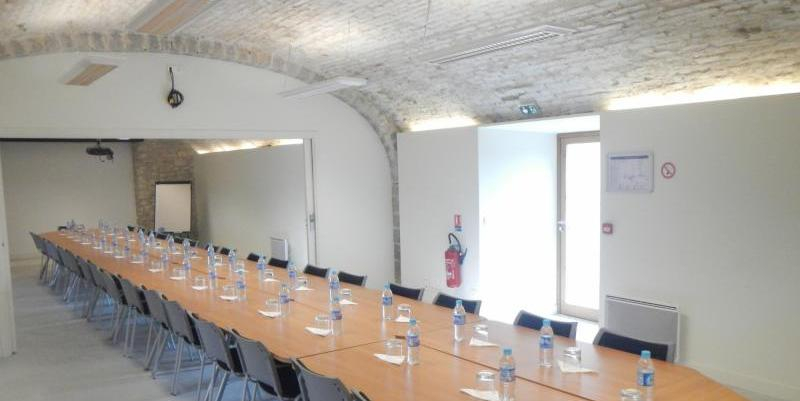 ROOM 1: CONFERENCE
Seating capacity: 40 to 90
Location: ground floor
Total area: 80m2 (or 2 x 40 m2)
Miscellaneous: disabled access, base for video or overhead projector, paperboard, telephone, large car park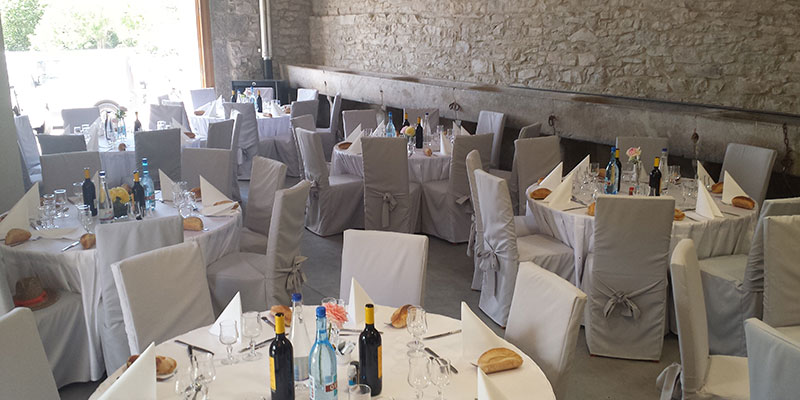 ROOM 2 : The old stables
Seating capacity: 90 (xx people)
Location: ground floor + mezzanine
Total area: 72 m2 ground floor + 45 m2 mezzanine
Miscellaneous: disabled access, large car park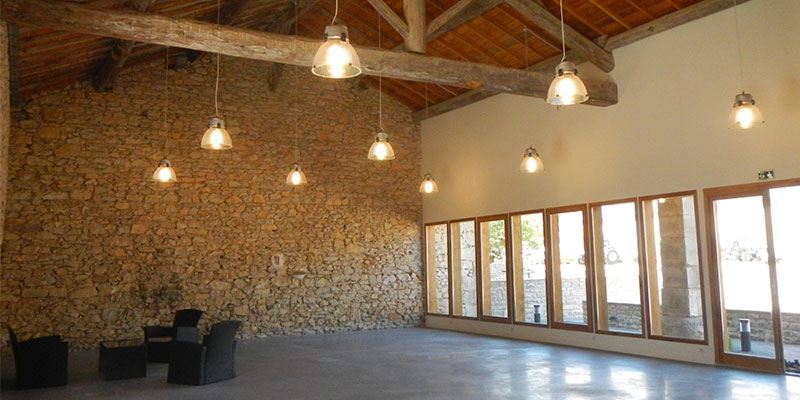 ROOM 3 : Les Inséparables
Seating capacity: 110
Location: ground floor
Total area: 135m2
Miscellaneous: disabled access, large car park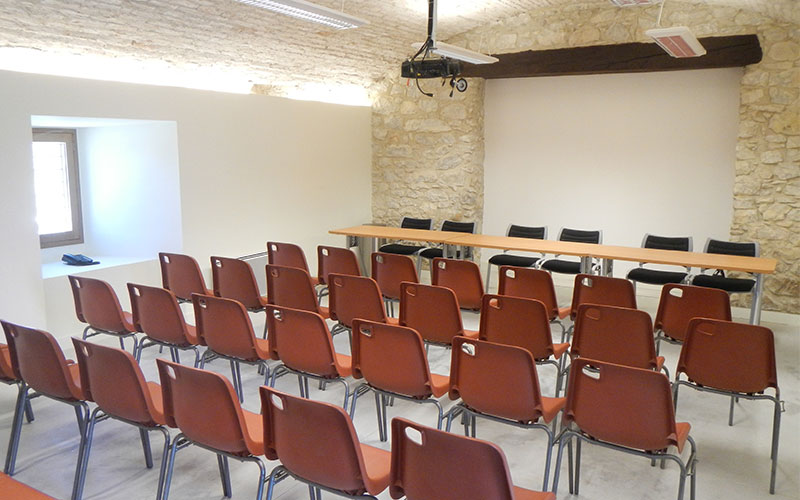 Tailor-made solutions for your company seminars and business events
You'll love the high-ceilinged room of 80m2 for its clean-cut, authentic style. This convenient seminar or training room can seat an audience of 40 to 90 people. It has ground floor access, suitable for people with disabilities.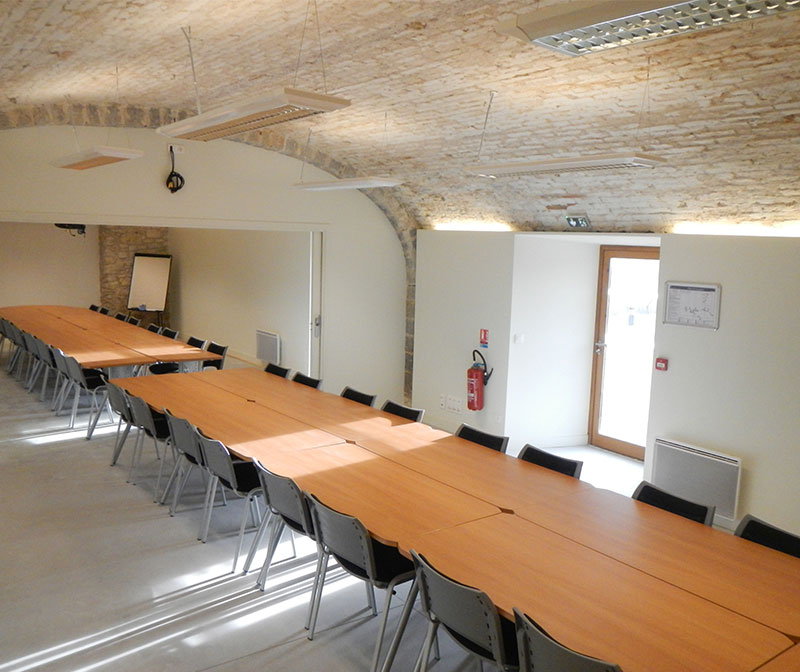 A modular space for workshops
Because we have imagined your events down to the smallest detail, our large conference room has plenty of bright daylight all day long.
This room can be modified and adapts easily to your needs, with large meeting tables placed in a U or in an oval to encourage discussion. Feel free to give us your specifications, and we'll advise or even help you if needed to prepare your company seminar.
This conference room is modular, and can be tailored to your precise needs. It has a large sliding door that divides the room into two independent workrooms of 40 m2 each.
Fully equipped for the success of your seminar
For your comfort, our company seminar area is equipped with a large wall screen, a sound base for videos, an overhead projector and a paperboard. This basic equipment can be supplemented on request by other supplies if needed.
Our equipment Paperboard
Overhead projector
Pens/Felt tip pens
Sound
Refreshments (on request)
Wifi
"It is our wish to offer you the best, to play our little part in the success of your company seminars, meetings, conferences or product launches."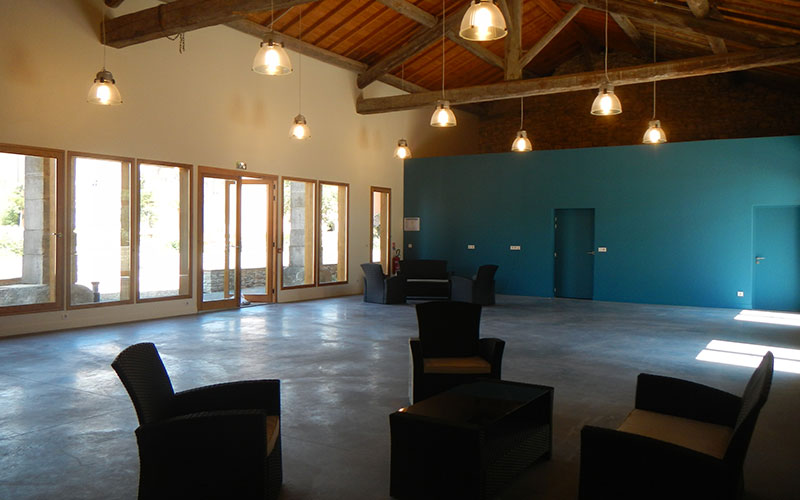 Privatising several areas
The Domaine de Ceyrac can adapt to any type of reception and can be fully privatised. This provides you with a large reception room of 135 m2, seating up to 110 for a meal. The old farmhouse has been converted into a delightful reception room for private events, like weddings, and business events like company seminars. A third room can be transformed into a study or reception room on request.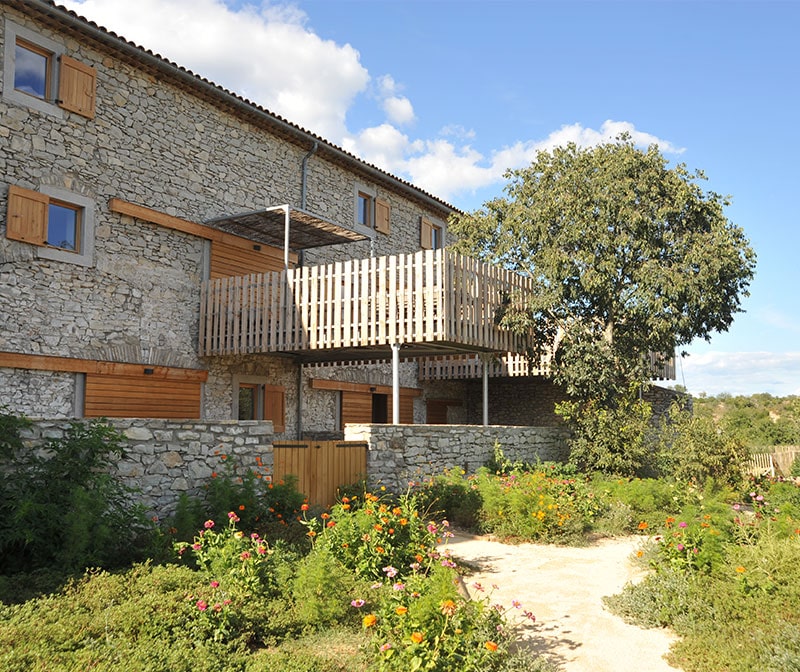 The Domaine de Ceyrac, partner in your company seminars
Organising a company event can be very stressful, which is why at Domaine de Ceyrac we can help to make it easier for you.
Organise a corporate seminar over several days
For more peace and quiet, we suggest you stay here the night before the corporate seminar. This will enable you to prepare the team-building activities or team-binding workshops that need setting up. The whole property can sleep 62 people. It can be privatised for a weekend or for several days. Feel free to contact us for more information.
Organise an incentive seminar in the countryside
The Domaine de Ceyrac stretches over 880 hectares of countryside. A rare opportunity to organise workshops in the country or fun team-building activities to strengthen the team spirit.
An incentive seminar aims to motivate the troops and meet precise targets for your co-workers. Nothing like meeting up in the midst of magnificent wild flora and fauna to let your hair down and chat cosily with your teams.
Our haven of peace guarantees special moments combining pleasure and relaxation. Bonding will be easy, and positive energy will flow, strengthening ties and motivating your staff.